NEXPO Products
IED PRODUCTS
넥스포는 Schneider Electric 의 다양한 IED 제품을 통해 전력계통 보호 엔지니어링 솔루션을 제공합니다. Easergy MiCOM과 Vamp는 신뢰성 있는 보호기능과 고급 멀티 기능을 탑재하여 플랜트의 설비들을 안정적으로 보호하고 모니터링함으로써 고객가치 증진에 기여합니다.
IED PRODUCTS
description
VAMP 200 Series
Protection and Control Devices for MV Power Systems
VAMP 200 series offers a comprehensive family of protection and control devices with complex measurement functions for the management of feeders, motors and capacitor banks.
전력 시스템을 위한 완벽한 보호 및 제어 관리자
VAMP 200 시리즈는 피더, 모터 및 캐패시터 뱅크 관리를 위한 복합 측정 기능을 갖춘 포괄적인 보호 및 제어 장치 제품군을 제공합니다.
VAMP 210: Small and medium sized generators including solidly as well as high or low resistance grounded systems.
VAMP 230, 255 and 257: Applications where reliable control and protection is needed on feeders and motors including overhead line feeders, cable feeders, motor feeders, capacitor banks, reactors and busbars in power system distribution substations, power plants, industrial power systems, marine and offshore installations.
VAMP 259: Complete distance protection which incorporates line differential functions required for the protection of sub transmission cables and overhead lines.
VAMP 265: Utility and industrial power generation differential applications including generators, transformers and motors.
VAMP 265M: Complete differential protection dedicated to large synchronous and asynchronous motors
VAMP 210: 지속적이며 저/고압의 접지 시스템을 포함한 중소 규모의 발전기
VAMP 230, 255 및 257: 전력 배전 변전소, 발전소, 산업 전력 시스템, 해양, 오프쇼어 시설의 오버헤드 라인 피더, 케이블 피더, 모터 피더, 캐패시터 뱅크, 리액터 및 부스바를 비롯한 피더와 모터에 안정적인 제어 및 보호가 필요한 애플리케이션
VAMP 259: 하위 전송 케이블 및 오버헤드 라인의 보호에 필요한 차동 회선 기능이 통합된 완벽한 원거리 Protection Elements
VAMP 265: 발전기, 변압기 및 모터를 비롯한 유틸리티와 산업 발전용 차동 애플리케이션
VAMP 265M: 대형 동기 및 비동기 모터 전용의 완벽한 차동 보호
Specification
Description
Specification
Type (Model Name)
VAMP 259
제어전원 (Power Supply)
18-36Vdc
40-265Vac/dc
CT Inputs
4
VT inputs
4
Number of Digital input (max)
28
Number of Digital Output (max)
13
Analogue input
Option
Analogue Output
RTD input
Protection Elements
Distance protection (21)
Overexcitation protection (24)
Synchrocheck (25)
Reverse power and underpower protection (32)
Loss of load / under current protection (37)
Phase imbalance / discontinuity protection (broken conductor) (46R)
Thermal overload (49)
Ground fault (50N/51N)
3 Phase overcurrent (50/51)
Circuit breaker failure (50BF)
Over / Under voltage (59/27)
Residual over voltage (59N)
Directional overcurrent protection (67)
Intermittent transient earth-fault (67NT)
Inrush and cold load detection (68)
Magnetising inrush (68F2)
Transformer overexcitation (68F5)
Auto-reclose (79)
Overfrequency and underfrequency protection (81)
Rate of change of frequency (81R)
Optical pilot-wire receiver relay (85)
Line differential protection (87L)
Current transformer supervision / VT supervision (CTS/VTS)
Communication Protocol
IEC60870-5-101, IEC60870-5-103, DNP3.0, Modbus, SPA-bus, Ethernet IP, Profibus DP, IEC61850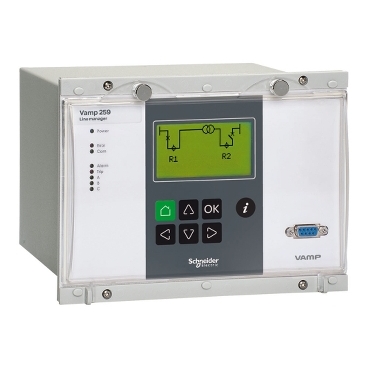 Question
Got a question? We'd love to hear from you!
Address
경기도
성남시
중원구
둔촌대로
388번길
24
우림라이온스밸리
3차
1106호
(13403)
Phone Number
031-739-9200