description
MiCOM P72x
High Impedance Differential Protection Relays
MiCOM P72x high impedance differential protection series provides high impedance differential protection for generators, reactors, motor and busbar applications.
고임피던스 차동형
MiCOM P72x 고임피던스 차동 보호 시리즈는 발전기, 리액터, 모터 및 버스바 애플리케이션용으로 고임피던스 차동 보호 기능을 제공합니다.
Combined with the MiCOM P79x, a standalone metrosil and resistor unit
Specification
항목
사양
 
P721
P723
제어전원 (Power Supply)
48 -250Vdc/ 48-250 Vac
24-250Vdc/ 48-240 Vac
CT Inputs
1
4
VT inputs
0
0
Number of Digital input (max)
2
5
Number of Digital Output (max)
4
8
보호기능

Circuit breaker failure (50BF)
Phase segregated high impedance current differential protection (87)*
Phase bus-wire supervision (95)*
Restricted earth fault protection (87N)
Earth bus-wire supervision (95N)
Check zone input (87CZ)*
Current transformer supervision / VT supervision (CTS/VTS)
통신 프로토콜 (Communication Protocol)
IEC60870-5-103, DNP3.0, Modbus, K-Bus/Courier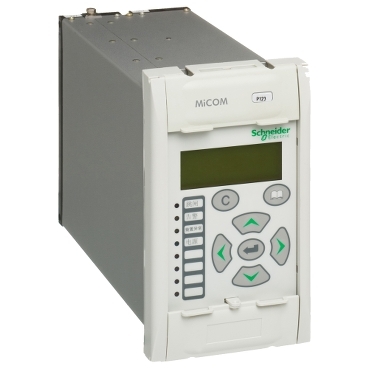 Download
| File | Download |
| --- | --- |
| User Manual | 다운로드 |
Question
Got a question? We'd love to hear from you!
Address
경기도 성남시 중원구 상대원동 5445번지 우림라이온스벨리 3차 1106호
Phone Number
(031) 739 9200